innovationAcademy
UNM is incubating a new program that is an innovation in learning theory itself.  Called the Innovation Academy (iA), it's a mindset, it's for everyone, and it's a new, nontraditional curriculum.  While the Innovate ABQ concept is a movement to transform New Mexico's economy, the Innovation Academy concept is a movement to transform higher education. UNM is a knowledge supply chain full of innovative ideas that iA, UNM's very own start-up, is bringing to fruition. 
http://innovationacademy.unm.edu/
Academic Communities in conjunction with innovationAcademy (iA) have designated many FLC courses and all Big Question Courses as iA approvedcourses.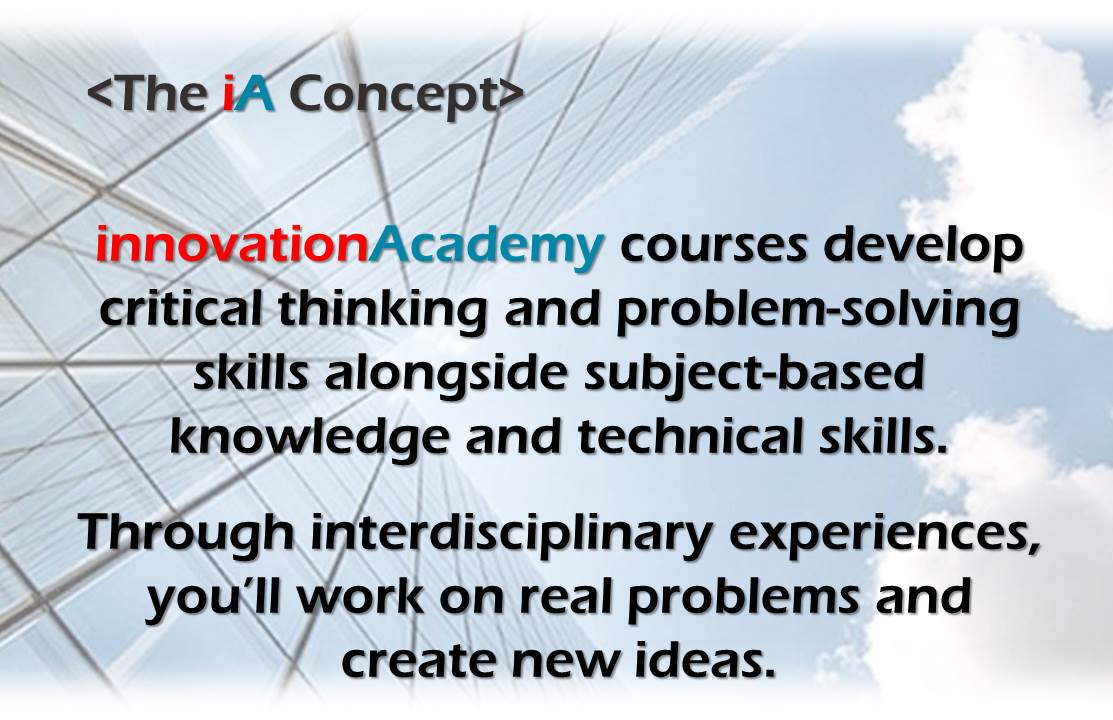 What is innovationAcademy? Beginning Fall 2015, innovationAcademy blends curricular and co-curricular components into a creative, innovative experience for students interested in business development. As an innovationScholar, students from any major can select from a menu of courses (many that students are already taking) that emphasize creativity and innovation, but will also provide opportunities for experiential education, job skill building, and entrepreneurism.
What is the benefit of taking a course designated innovationAcademy approved?  The innovationAcademy at UNM is an interdisciplinary program focused on providing experiential education opportunities for students at all levels of study.  It is our sincere hope that alongside the opportunity to "learn while doing", students will develop their sense of creativity, innovation and stoke the flames of their entrepreneurial flair.  By adding the "iA endorsed" moniker, students in your course will have the opportunity to take part in the "Innovation Scholars Program" where they will explore curricular and co-curricular opportunities surrounding innovation. 
What are the learning outcomes for iA courses?  The goal of iA is to broadly define "innovation" and foster the spirit of creativity, innovation and entrepreneurial thought in students of all disciplines at UNM.  Learning outcomes are to demonstrate a linkage to critical skills including:
creativity
problem solving
collaboration
entrepreneurial activity
Do students have to start a business in these class?  innovationAcademy is after the creation of new knowledge, ideas, and approaches to solving the world's questions.  Some will start businesses; some will create music; some will conduct scientific research.  It allows for students to focus on using college as a time to create the next great changes in our society.
Dr. Rob Delcampo, Director of Innovation Academy, has approved FLCs and Big Questions to be included as courses students may take to be part of the iA program.
---
Want more information??
Contact Dr. Rob Delcampo: delcampo@unm.edu